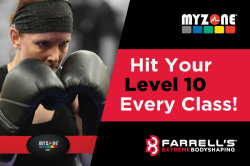 We're excited to announce that we're launching the MYZONE's new MZ-3 activity belt – a Bluetooth-enabled, heart rate based effort-tracking device.
This industry-leading technology provides real-time tracking of your exercise effort on displays in our gym and on your smartphone. Unlike wrist trackers that only count steps, MYZONE is 99.4% accurate and inclusive of all exercise activity – so you'll get credit for those burpees, planks and sit-ups you're doing in class. MyZone also tracks your exercise activities outside of the gym, so you can track your performance during daily runs, cycling trips, and even your sand volleyball or softball games!
Based on MYZONE Effort Points (MEPs), you'll be able to see your effort during class, in real-time, ensuring you hit your level 10 and get the results you want.
Plus, you can connect with other members, friends and participate in MYZONE-specific challenges.
3 Fats about Heart Rate Monitoring Technology:
FACT:
Gym-goers who track their workouts exert 25% more effort than those who don't.
FACT:
Most wrist-worn lifestyle trackers don't accurately track all exercise effort and are based mostly on steps.
FACT:
MYZONE® tracks all exercise effort with 99.4% accuracy.
5 features that make MYZONE superior to wrist worn devices for gym goers:
– The MYZONE App and unique point system measures what matters–exercise effort.
– The point system called MEPs measure "time x intensity = effort". This measurement creates a level playing field for all users no matter age, weight or gender.
– MYZONE is able to accurately track a wide variety of exercise movements. Because the chest strap is 99.4% accurate to an EKG machine, every effort counts. (Wrist based devices like Fitbit ignore pushups, leg press, boxing and planks because your wrist doesn't move and your heart rate is unstable when your wrist is bent or clenched during movements such as boxing or weights.)
– In-gym TV displays help motivate you through group heart rate tracking. Seeing your workout effort percentage on the screen alongside the percentages of those around you motivates you to work hard to stay at the front of the pack.
– MYZONE helps you work with your other favorite fitness apps like Garmin bike computer, Strava or Apple Watch.